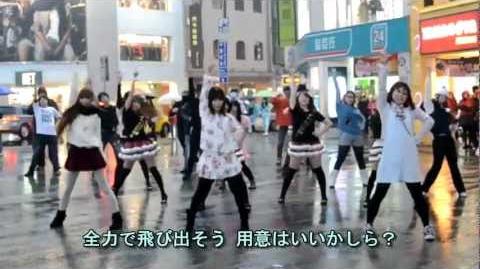 Public Colabs. (A.K.A. Flash Mobs)
Edit
Christmas Day (2011) Danceroid, Candy Star, and the Public gathered on a city corner in Sapporo, Japan and danced together to Luka Luka Night Fever. Danceroid members Ikura, Kozue, and Yuzuki are easily identified in the crowd, as they are in the front of the mob. Ikura is wearing a white sweater, white tights, black boots, a black scarf and a red skirt. Kozue is wearing a pink and white floral long-sleeve dress with black tights and boots. Yuzuki is wearing a light pink long-sleeve shirt, a light blue no-sleeve dress, black tights, and sneakers. All Candy Star members can be identified by their matching outfits. They (Candy Star) are wearing a black shirt the displays the words, "Candy Star" on them in Kanji and 2 layered skirts that are magenta and white. Complete with black knee socks and black shoes. 
Concert Colabs.
Edit
 (Coming soon)
Community content is available under
CC-BY-SA
unless otherwise noted.